So I hope I won't waste my precious 2 hours tonight. Bf and I are going to see Ninja Assassin. This is
not
my kind of movie.
Rain
is
not
my kind of celeb crush. I didn't even bother to see the Transformers (1 & 2), I have no idea why I agreed to see this one. Has anyone seen it? I'm pretty pessimistic. :/
I'm almost running out of my makeup remover and toner (I'm currently using The Body Shop's Vitamin E Hydrating Toner). I might get a new one tonight. Any recommendation of a good toner? As for the makeup remover, I'm sticking to Maybelline or L'oreal. I've never used anything aside of those two.
Anyways,
I did this look yesterday but decided not to wear it out. It was too makeup-y for the day. Lol. Is that even a word? But you get the point. :D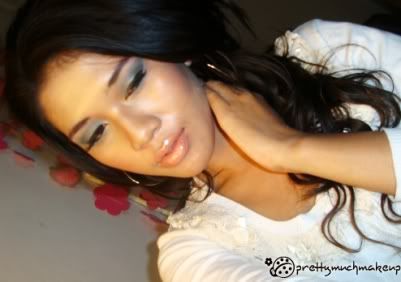 I think my camera sucks as I don't seem to find a steady lighting. With flash, I will look shinier than I actually am in person and the flash always washes out my blush color. Without flash, I would end up with blurry/too orangey pictures. Sigh. I want to get a DSLR as I love taking pictures (not just pictures of my self, of course). But you know, they're pretty pricey and I want a good one like from Canon or maybe Nikon. I'll have to save up first for it but I don't know if I can do that as I spend too much money on makeup and all things pretty. Haha. Typical. :P
What I used in this look...
Face:
ROC soothing reparator
Hanskin Premium Magic BB cream
NYX concealer in jar
Maybelline mineral foundation
Ciel Minerals veil
Pink blush from Coastal Scents 26 pcs combo palette
Lips:
Revlon superlustrous l/s in Sandalwood Beige
NYX round l/s in Honey
MAC prrr l/g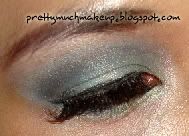 Eyes:
UDPP
CS 88 palette (black, teals and greens all applied wet)

NYX UPM in Turquoise Pearl
NYX nude e/s
CS gel liner in True Black
Falsies

Be careful NOT to use too much glue for your falsies. Last time I did that, it hurt my lashline when I was taking off my falsies (only the left one, fortunately). My eye went all watery because of it. I gotta practice more with wearing falsies. Also, I need to buy a decent eyelash glue. I've been using the ones that come with the falsies. They're fine and they hold the falsies pretty well. But they dry out white and then make my falsies looking weird.
I was tagged by a fellow Indonesian blogger
Dina
.
I'm sure I'm pretty late with this tag so I'm tagging anyone who hasn't done it. It's fun, so why not? :)
Most Worn Tag
1.) Lipstick/Lipgloss
LA Girl Creme Lipstick in Fling & MAC prrr lipglass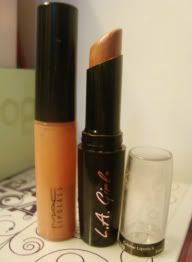 2.) Earring/Necklace
I wear hoops a lot and I'm currently loving my leopard earrings :)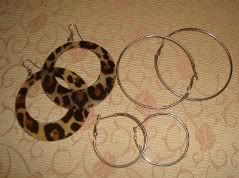 3.) Top/shirt
My bf got a matching t-shirt, also with red converse shoes on it. We're not a matchy matchy couple though. It's just a coincidence. He bought it long before he met me. This t-shirt is by
anti-beauty
. I think it's a Malaysian clothing line? I don't know, they're available in Centro Dept. Store though.
4.) Nail Polish
The Face Shop BR801
5.) Shoes
I call this my "nurse shoes". I love 'em because they're very comfy. Wanna know how I keep 'em clean? I put
cajuput oil
on tissue papers, wipe 'em clean, and keep 'em back to the box.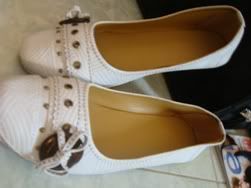 6.) Hair Product
The Body Shop Grapeseed Glossing Serum
7.)Perfume
On everyday basis, I only wear The Body Shop Aqua Lily body mist. But lately I've been into this Miss Lomani perfume I got as a birthday gift from my brother. :)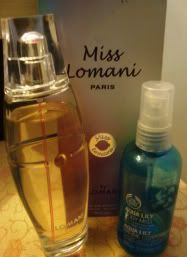 8.) Handbag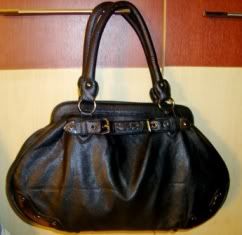 Gold Color Tag
Jane You're Golden e/s, Aslan the Lion, a pair of earrings, and a clutch.
Hope you all have a great day today! :)