I'm sure by now in most homes in Indonesia people have already started preparing cookies and sweets for the upcoming Hari Raya Idul Fitri or
Eid
or whatever you call it in your part of the world. It's basically my favorite Muslim holiday because I get to gather with my family and friends in my ol' hometown. In other words; it's gonna kick ass! And I am so excited! :D
For the big day I'll most likely keep it natural and simple because it's a religious holiday after all, I don't want to look too made up. The most important thing is just to look radiant and awake, so I'll still be focusing on the eye makeup.
This look is very simple and easy to do. I only use four eyeshadows (which you can substitute with whatever eyeshadow brand you got in your stash), they are:
Too Faced eyeshadow in Heaven (a matte, nude/cream color that I use as a base color)
Too Faced eyeshadow in Silk Teddy (a shimmery champagne color that I use to brighten the inner corner of my eyes)
Too Faced eyeshadow in Sexspresso (a matte, dark coffee color that I use on the outer V of my eyes)
and Thevi Matte Eyeshadow #250 (a matte, light brown, some kind of a flesh color eyeshadow that I use to contour my crease)
My camera is lousy in picking up the subtle colors so I made up the red lines to point out the areas where I put my eyeshadow on. Enjoy! :)
Always start by priming your eyes. I'm using ELF Mineral Eyeshadow Primer. In this picture I haven't blended it out yet just to show you that it's there. Blend it well before you apply your eyeshadow. :)
Using a big, fluffy brush, apply Heaven all over the eyelid.
It'll look something like this.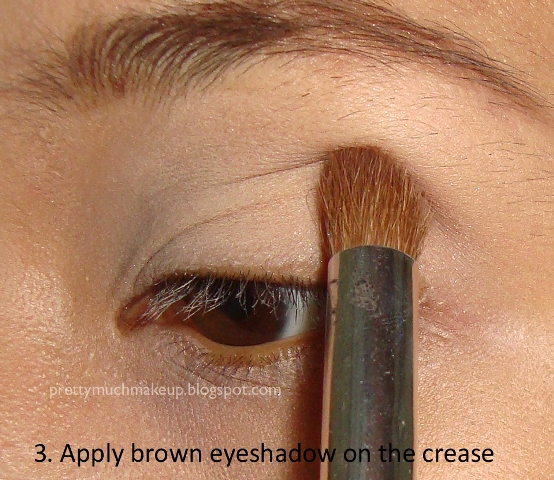 Using a smaller blending brush (I'm using ELF Blending Eye Brush), apply Thevi Matte Eyeshadow #250 on the crease and blend.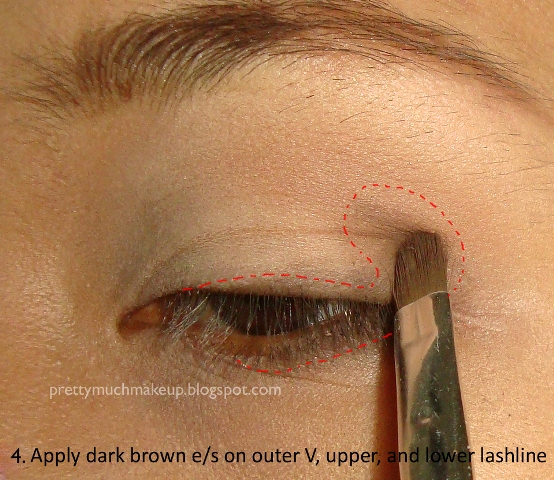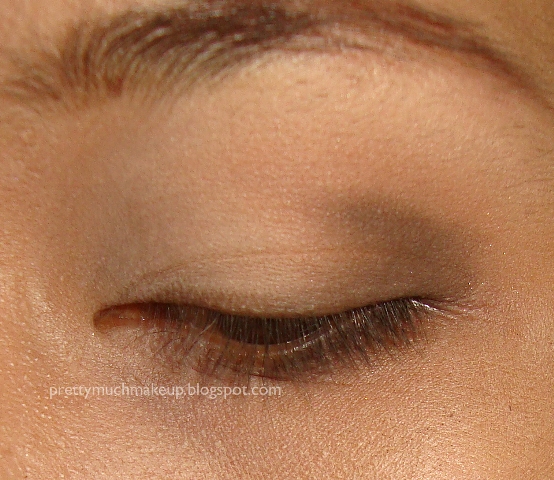 Apply Sexspresso on your outer V using a small eyeshadow brush. Make a V-shape and blend it upward. Also apply the eyeshadow on upper and lower lashline starting from the outer corner going in.
Line your eyes. I'm using Revlon Fabuliner Liquid Eyeliner on my upper lashline and Urban Decay 24/7 Eyeliner on my waterline.
Finish up by applying mascara or fake lashes (or both!). And don't forget to apply a shimmery nude eyeshadow on the inner corner of your eyes to brighten 'em up a bit. It makes a big difference!
And there you go. Instant eye lift! LOL. I actually wanted to apply a more natural looking falsies but I couldn't find my pair.
on my face:
- Hanskin Premium Magic BB Cream
- NYX concealer in jar
- Maybelline Clearsmooth Powder
- Urban Decay Afterglow Blush in Score
on my lips:
- Maybelline Moisture Extreme Lipstick in Natural Nude
- Revlon Superlustrous Lipgloss in Nude Lustre
I think I look a bit ghostly in the pictures, thanks to the large amount of SPF lotion on my face. And I recently fell deeply in love with Urban Decay Afterglow Blush in Score. Perhaps it's appropriate to call it "Urban Decay's version of the infamous NARS O". I don't have NARS Orgasm though, I'm just guessing. :)
That's it and I hope this tutorial would be helpful someway. Thanks for reading! :D