Hello guys! Thought I'd update you all with some random pictures I took on my birthday weekend. I definitely had fun during my stay here and I'll already be back in my city by tomorrow.
Thanks to everyone who wished me happy birthday. I don't know how to make that sound more sincere but seriously, it feels wonderful to have such sweet blogger friends from different parts of the world. :)
On my birthday I went out for lunch with my parents and my sister. Unfortunately, I didn't take pictures of the food, but I did take several pictures around the restaurant. It was such a hot, sunny day so I didn't wear a lot of makeup or anything. I had to squint all the time, lol.
I have the cutest sister! She just started
a blog
, by the way. :)

Some pictures I took around my town...


this is an outdoor cafetaria :)
guess what, this is where I went to high school. ;)
Then at the evening we went hunting for glorious food again. Since my town is famous for its seafood, we decided to stop by a small seafood restaurant. I ordered myself some shrimps and crabs. They were so amazingly delish (and cheap)!


Each plate cost only about 5 to 6 US dollars. I'm not kidding you. In Java I don't think it can be that cheap, and even the crab wouldn't be this huge. The dish called Kepiting Asam Manis in Indonesian, it's sweet and spicy.





This one is Udang Saus Mentega or Margarine Sauced Fried Shrimp (I think, lol). So yummy.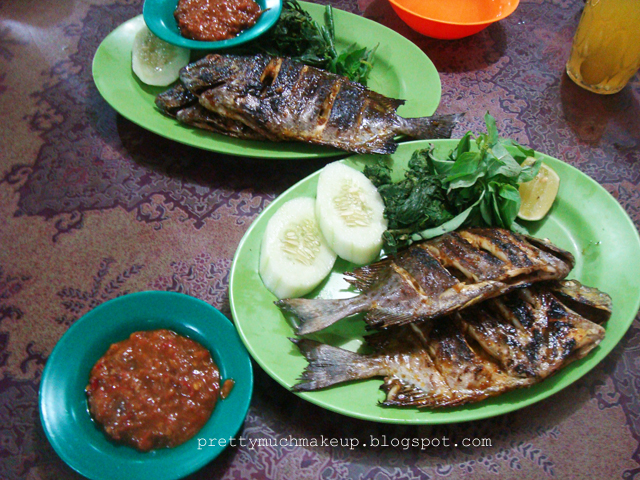 Grilled fish. :)
They're called Baronang fish in Indonesia. You're supposed to eat it with the chili sauce. :D

After having dinner we drove by the town center. It turned out that there was a night fair going on, so we stopped by to meet the town fellas. I bumped into a lot of my ex-schoolmates. There were a few people I know who already got married and had babies.
Anyways, it sort of annoyed me when people come up and ask when I'll be next. You know, "settling down" and stuff. Why does everyone have to ask that question? Obviously we don't always know when things going to happen! It'll happen when it happens, right? I'm still young anyway! :P


It is exceptionally hard to take pictures at night with this camera, so please excuse the blurriness!




Hmm I think this is supposed to be the Titanic? Lol.




Well, that's pretty much all I can share for now. I can't wait to get back to Yogyakarta (I already miss my kitty cat Aslan so much!) and go out on Sunday afternoon with my boyfriend. Oh and I've been working out like crazy over here! I mean, it's so quiet and the air is still so fresh, it would be a waste if I don't use the opportunity to jog more in the morning. I don't know if I can maintain this workout schedule once I got back to my city, probably not! Haha. Maybe I should start going to the gym or something. But damn I'm too lazy. Hahaha.

A simple FOTD & OOTD to end this post...



Thank you for reading, hope you enjoyed the post! :)